Escalera Stair Climbing Handtrucks and
Stair Climbing Forklifts
-TESTIMONIALS-
PRESS PLAY to watch Escalera customers talk about their experience
with Escalera StairCat Stair Climbing Hand Trucks and Stair Climbing Forklifts.
---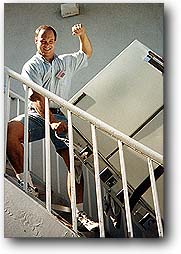 "Really impresses the customers-it's penny wise & pound foolish not to buy one for moving appliances." -Fremont Appliances "Had it not been for the Escalera there would be some serious chiropractic visits, maybe even some serious surgical procedures taking place. Definitely takes the weight off, no doubt about it. Lots of customers comments, just about every time I arrive with that guy, they say, "Hey, that's a pretty nifty little unit you got there", and of course I tell them "Without that unit, I would be a hurting unit". -Stove Installer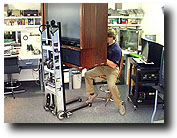 "The Escalera has been a very good investment for our business. It has helped us get to places we were not normally could not get to. Helped with our installations heating, plumbing and installing wood stoves." -Rudy's Plumbing and Heating "We think your Escalera Manhandler is the greatest thing since the wheel for moving big screen TV's. I will say without a doubt, it is a lifesaver for small operators such as myself". -Universal TV " The Escalera has helped us tremendously because it has made our job much easier getting these large parts up and down stairwells, in and out of pickups, etc. In fact, I would say that it paid for itself the first time we used it. I think it's a very definite asset to any elevator company who does a lot of repair work and has to move armatures, drivers, large rotating equipment in and out of a machine room on a daily basis. It's a tremendous labor saving device. It saves a lot of money." -Dover Elevator Company "We would have to turn business down if we didn't have some sort of a stair walker. We had turned business down up to this point and we got business because we had the Escalera. There were schools that refused to use us before and once we got it we were able to do it and do it efficiently with one man". -Scholastic Book Fairs "Since 1980 we've installed well over 6000 stoves in this area....We've had many deliveries up stairwells that would have been very difficult without an Escalera. I can only think of one delivery that was so difficult the Escalera couldn't handle it. We had to call in a crane for that one. Outside of that, every delivery situation we've had we have been able to use the Escalera." -Placerville Energy Center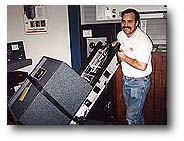 "Before we had that Escalera we came close to death on a few deliveries. It's hard to really put a value on it.. At this point we couldn't conceive of doing anything without it. It enables us to do deliveries with one person rather than send two or three guys out on a delivery. One guy can go out, unload a stove, bring it into a house and the stove could weigh 700 lbs. so it's definitely a big help. We don't have a forklift so basically our Escalera is our forklift and our hand truck all in one. It's been invaluable for our business.". -Solar Syndicate "I beat the snot out of this thing and it works great." -Edwards Lock & Safe "I love that dolly & I run a one-man shop. Would never want to give it up." -Appliance Mart "...in fact, it is a lot better than a helper. First it's always at work on time; second, it never talks back." -Appliance Rental Co. "Fantastic...best investment I've ever made...replaces one man. Now I can employ all female help." -Jerry's True Value "Very happy with our Escalera, very few problems." -Herman's Tires "It has seen about 3,000 stoves and has worked great all that time." -Buck Energy "Saves man and payroll. Paid for itself in 2 weeks." -Bittner Appliance "We use an old model Escalera and love it. We like the new Gel-Cel batteries." -Penners "Unit has saved my ass a few times." -Arizona Lock and Safe "Can't get along without it." -Black Magic Chimney Sweep "Excellent unit." -A-1 Rentals "Wish I had a buck for every time I used it." -Astech Appliance "I sold 3 friends on Escalera Stairclimbers...each bought one." -Dolven's Appliance "Love it." -Joseph C McElroy "Love it...send people to see it." -A & F Appliance "Use it all the time...excellent for stairs in San Francisco." -A.B.C. Appliance "We've saved almost 30% of delivery cost by using Escalera's motorized carts." -Ace Appliance "Best piece of equipment we've ever bought!" -A. A. A. Mittmans "Would get out of the business if we didn't have our lift." -NU Dimension Products "Only one man shows up, amazing!" -Allied Refrigeration & Electric "Neat, couldn't get along without it."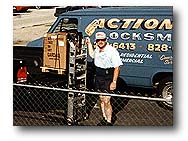 -American Storage Tank Co "We really like it." -Andy's Appliance "Use it every day during season." -Apple Valley Fireside "It's a remarkable unit. Thanks for the great service." -Buck Stove "Highly recommend Escalera lifts." -Aspen Home & Energy "I couldn't operate without an Escalera-that is why I have two." -Casey's Refrigeration & Appliance "Excellent machine; we move Zerox, IBM and Royal mainframes." -Computer Transport "Working great. I climb everything up here, 70 steps a day. I've taken 27 cubic foot refrigerators up over 30 steps & have moved 8 refers in a day." -Five Star Appliance "It's a real labor saver." -Kermit Pederson Store "We've used the shit out of this motor the last 5 years." -Computer Carrier Corp. "Love it." -Anthony's TV & Appliance "God, I'm tickled with that cart." -Ray's Appliance "We are very pleased. It's been a real blessing.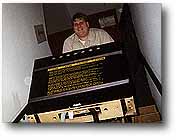 Be glad to demonstrate unit." -Soot Busters "My son won't go without a power unit." -Roys Appliance "3 stoves a day, 6 days a week, I'm a one-man operation; put in over 1,000 stoves." -Henry A Scoggins "Thank-you very much for your speedy rebuilding of our handtruck. It works better than new." -TeeVax "Use it a lot, works great." -Mavis Music Co. "We have 15 Escalera Stairclimbers & send only one man out on deliveries." Phillips Delivery "Thanks. You guys are great!" -Sutter Appliance "They're fantastic for what we're doing." -Speed & Electric "I'm tickled to death with my Escalera! That's why I have two." -Don's Appliance "Our unit an MLA-HC has worn down after much good service." -The Energy Center "We rely on your mechanism so much these days; thanks for the quick service." -The Energy Shed "This equipment has served me well these 15 years." -Eshlemans Inc. "I wouldn't be in the piano business without one. If you don't have one, you don't know what you've been missing." -Forrest's Band Instruments "I want to tell you that your Escalera moving cart is great. I now can deliver any appliance without help many times thus saving me the cost of an extra man. It's well worth the cost." -Gamble Store "We recommend Escalera to all of our dealers." -General Electric Co. "This is the first part I've ordered in 4 years and we use the heck out of it." -The Good Earth Works "Delivery people love it." -Harbison Appliance Sales and Service "Thanks for such great service!" -Heat Exchange Inc.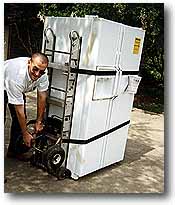 "It's been a good one. I'm 70 years old last month & still at it every day...been in the appliance business since 1953, bought my Escalera 10 years ago." -Higgason T.V. & Appliance "We used to use a two-man crew. Now we have two one-man crews. We make more money and they make more money. It paid for itself in less than a year." -Home Energy Center "I enjoy using your equipment very much. It's a real back saver in my plumbing and heating business." -Hopmeadow Home Service "I've gone more places with my Escalera than with a four-wheel drive." -Hot Air Co. "We move large water heaters. We really use our 1000lb. capacity Escalera." -Simonson Brothers "We use it on a daily basis." -Hursh T.V. Inc. "We've had it for at least 10 years-still works great." -J & S Appliance "Like it for tight spaces, very happy with our unit for lifting 700-900lb. safes, easy to handle." -Keep Safe of California "Finest ever used!" -Kelly's TV & Appliance "I'm very happy with my Escalera. I sold my old one to Good Will and bought a new one." -Klinefelter Electric "It has really taken a load off our backs." -Jerry B. Leach Co."Borrowed an Escalera from a friend & I liked it so much I bought one for myself." -McCormick Appliance "The Escalera facilitates safe delivery of large appliances to upstairs dwellings since there is ease of movement upstairs with the Escalera. In short, we are very pleased with the operation of the Escalera." -Montgomery Ward "Best investment that I've ever made. It's a lifesaver even for just a few steps." -Morris Refrigeration "We just finished delivering 34 pianos to the Eastern Music Festival, and the Escalera was invaluable." -Morrow Piano & Organ Co. "Have had very good luck with it over the past 5 years. It's gotten me out of a lot of jams. I send one guy out and he does it all." -New Milford Refrigerator "Can do all you claim." -Pyle Appliance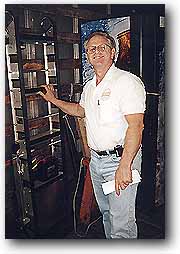 "Use them both everyday-I love them." -Seacoast Appliance "Just a big thank you for the very fast service you have given me. " -Security Locksmith "The unit is a very important part of my business." -Tozzi Appliance Center "Thank-you for your promptness on parts." -Triangle Appliances "Installed over 3,000 stoves in 6 years of service - finally the battery has gone dead. It's one hell of a gadget. I have put these lifts through all kinds of tests and it's never failed me yet." -Valley Chimney Sweep "Have had very little maintenance problems." -Valley Lamp & Lighting "Couldn't work without it!" -Walt Disney World "The best advice I got was from a friend who said, "You must have an Escalera to help you move the stoves." I felt I could do without, but this month every day as I set up to move stoves around, I say thanks, Thanks for making such as special tool, to help so many." -Warm and Cozy "My stairclimber is my right arm." -Aladins Appliance "We move 900lb. batteries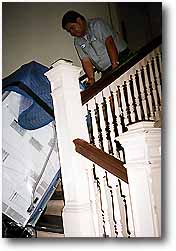 upstairs, everyday, no problem!" -Southern California Edison "If you care for your staff and your efficiency, you shouldn't be without one! Our service department can't say enough about the ease of handling the heavy stuff." -Haan's "I just want you to know I think the machine is the greatest. My wife has even delivered a refrigerator by herself." -Gambles Store #5924 "We will only sell your truck. It's the only one that will hold up to the work." -Fortna Material Handling "I am very pleased with my Escalera, to say the least." -Hallock Appliance and Refrigeration "Super product, many years of service. I have recommended it to others in my area." -Koch Plumbing and Heating "I couldn't get along without my Manhandler; it's the best piece of equipment I have." -Orv's Appliance "We have had the privilege of using the Escalera stairclimbing cart for a period of 34 months. Although we were skeptical at first, this equipment has proved to be one of our better investments." -Montana Dakota Utilities "We have used this dolly everyday for many years and it has saved many backs!" -Nederland Home Supply "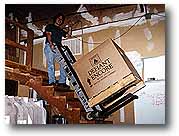 The Escalera has proven to be a real money saver since they made a one-man operation out of many 2 to 4 man jobs." -Pacific Telephone "Super, wouldn't know what we'd do without it." -Thompson Appliance Repair "I do like the dollies very much, and now that we have practice with them, they are truly a help-saver. I don't think I could get along without one now." -Seranade Music Co. "We successfully reduced the cost of delivery by fifty percent." -Shaw Walker Company "This Stairclimber paid for itself in less than 2 months. I don't see how an appliance dealer could get along without one. All of our customers marvel at our performance when we deliver." -C Stephens Co."With the Escalera, we now deliver heavy files and safes single-handedly with a minimum of effort." -Keep Safe of Canada Ltd. "Boon to my business, I couldn't get along without it. Great machine, saves money and the back." -Landscape 2 "Thank-you for your great product." -Spa Center "The battery for my robot lasted 4 years. I charge it after every use." -Jami Caseber "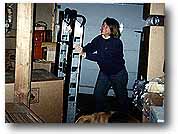 It's a lifesaver." -Diversified Printing Co. "Hell of a machine-we also have a (Brand X) Lift but this is more versatile." -Johnson Plumbing and Heating "Thanks for the fast service." -Rent By Phone "3 years old now and it just needs new tires. We haven't had any other trouble with it." -Grace Harbor Pellet Heat "I'm happy with my Escalera-it's a hell of a lot better than (Brand X) Lift." CSI Vending "The thing is beautiful. We move 485 Section Boilers. One guy now moves them instead of three men. We had tried a (Brand X) Lift and didn't like it." -Keller Oil Company "It bounced down the highway, landed in the median doing 70mph and it still works." -Dove Energy Center "I love it." -Ken Fulman "You were right-we don't need the A.C. power. In fact, we haven't even used the spare battery yet. You make one hell of a machine." -ARA Vending Services "For 15 years it's done a lot of work around here." -Coast to Coast "Love our Stairclimber, both of them." -Handy T.V. "It's saved us a lot of money by cutting back on man power." -Dick Van Dyck "Lift really does the job." -West Avenue Woodstove "Many thanks for your prompt help." -Blackanar Heating "You were issued 2 eyes 2 ears and 2 testicles, but only one back." -Silver Sword Stove Shop "Real good cart. We've had a lot of success with ours. We move 40 to 50 appliances a week and it's held up real good. We appreciate the service you folks have given us, too." -Duke Power Company "My installer had a (Brand X) and I wanted to buy an Escalera but he didn't want to spend the money. He left & I bought an Escalera...then he did also. Our dolly has saved our neck a few times." -Timberware Products "It's going to make me a lot of money." -Carlton Appliance Service "I used my MLA-EW to lift my Porsche." -Scandia Stove Works "Had a chance to use one of yours , although I own a (Brand X), I bought an Escalera MLA-HC." -The Stove Shop "It has seen about 3,000 stoves and has worked great all that time." -Buck Energy "It's everything you said. Has saved me money, time, and probably my back. I should have my return on this by February. Thank-you." -James Holley "I've also got a (Brand X) and it's not any good, its in the shop getting welded or something else fixed on it more than I use it for my business." -Southern Home & Hearth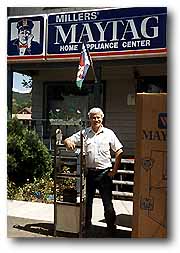 "Had a MLA-EW on order but cancelled because the (Brand X) salesman talked me into a (Brand X). I fought it for 2 years,then I sold it and bought an Escalera. I'll never forgive myself for canceling my original order." -Alternate Energy Systems "Thank-you, I love the machine!" -Sherwood Stove Factory "If we had invented this machine, we would have done it the same way." -Burkel Equipment Co. "Excellent machine." -Northwest Pellet Stove "Had a gel cell battery for 7 years & it finally went dead on me." -Richardsons "Thanks for your prompt service and reliability of your dolly over the years. Great machine. Kids stop playing and watch me use it." -Keith Debolds "Really impresses the customers." -Collette Plumbing & Heating "Nice outfit. Wished I'd had it a long time ago. It spoils you." -Murphy's Appliance "Good engineering and upgrades. Well pleased with the design. It has worked really good for us. It's good to deal with a company that has some snap." -All Valley Key & Lock "Very well satisfied with it." -Morris E. Burch "Our truck is about 15 years old-we don't use it that often, but it works great." -NH Vending Co. "We're really impressed with it." -Sunset Spa's "Really groovy service." -Pacific Energy Co. "Our unit makes us money every time I take it out. It's really worth its weight in gold." -Four Seasons Fireplace "I have an artificial leg and my Escalera enables me to stay in business. I highly recommend it to anyone that has to do any lifting or hauling." -Benny's Appliance "Since the lifting is done by the machine, it's safer and easier to deliver. I'm sure that anyone who has the job of lifting heavy appliances like we do is going to appreciate your machine." -West Coast Delivery Service "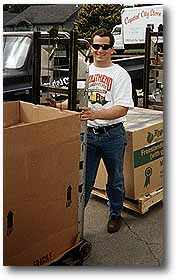 The cart we purchased from you is more than we expected. I don't know why I did not buy one 5 years ago. It sure does save on the back ache." -Johnson Refrigeration "I enjoy using your equipment very much. It's a real back saver in my plumbing and heating business." -Fley Plumbing & Heating "We love the truck and will highly recommend it to any doubtful prospects." -Van's Kitchen Mart Inc. "We sure feel this investment was one of the best we've ever made." -Leese Appliance "I have been waiting to write to you for some time to tell you how much I thoroughly enjoy using my Stairclimber. I would recommend a Escalera to any and all Piano Organ dealers, especially the small dealers who do not have a delivery crew." -Van Velzor's House of Music "Fantastic Machine. Takes the place of a man on deliveries-saved over half the price in first 5 months." -Anonymous "In February Battelle Northwest purchased an Escalera Model MS-66 powered hand truck. Delivery was made as scheduled. And after several months of use, no maintenance problems have occurred. Several potential safety hazards and injuries have been eliminated through the use of your product." -Battelle "This is the best gadget what I got." -Atseteck Appliance "I enjoy using your equipment very much. It's a real back saver in my plumbing and heating business." -Hopmeadow Home Service
---