The automatic rewinding safety straps on the Escalera Stairclimbing Handtrucks work the same way as a seat belt in a car. They can be mounted at different heights on the handtruck and can easily be used to secure the heaviest of loads. The automatic rewinding safety straps are lightweight, and self-contained. Because they rewind into the side frame when they are not in use, you will never have loose straps dangling down by your feet. A simple to use thumb-style lock secures the strap for tightening. Every Escalera Stairclimbing Handtruck ships with one automatic rewinding safety strap included as standard. Additional straps are optional.
---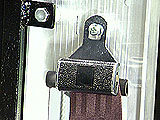 Hang the male strap on the peg provided on the side frame for easy and convenient storage and access.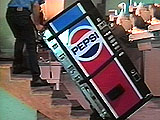 For tall, heavy loads, like vending machines, it is a good idea to have a second strap in the upper position. The second strap helps stabalize the load as well as secure it to the handtruck.